2020-09-10
Sarasota Homebuyer Traffic Is on the Rise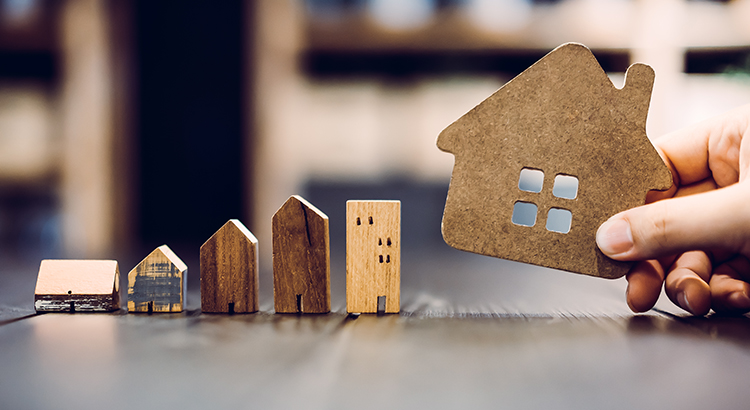 One of the biggest surprises of 2020 is the resilience of the Sarasota residential real estate market. Lawrence Yun, Chief Economist of the National Association of Realtors (NAR), is now forecasting that more homes will sell this year than last year. He's also predicting home sales to increase by 8-12% next year. There's strong evidence that he will be right.
ShowingTime, a leading showing software and market stat service provider for the residential real estate industry, just reported on their latest the ShowingTime Showing Index:
"Home buyer traffic jumped again in July, recording a 60.7 percent year-over-year increase in nationwide showing activity."
That means there are 60% more buyers setting appointments to see homes than there were at this same time last year. The number of potential purchasers was also up dramatically in every region of the country:
The Northeast was up 76.6%
The West was up 56.7%
The Midwest was up 52.1%
The South was up 46.7%
The Housing Market Is Showing a 'V' Type Recovery
ShowingTime also indicates the real estate market has already come back from the downturn earlier this year that was caused by shelter-in-place orders. Here are the year-over-year numbers for each region on a monthly basis (See graph below):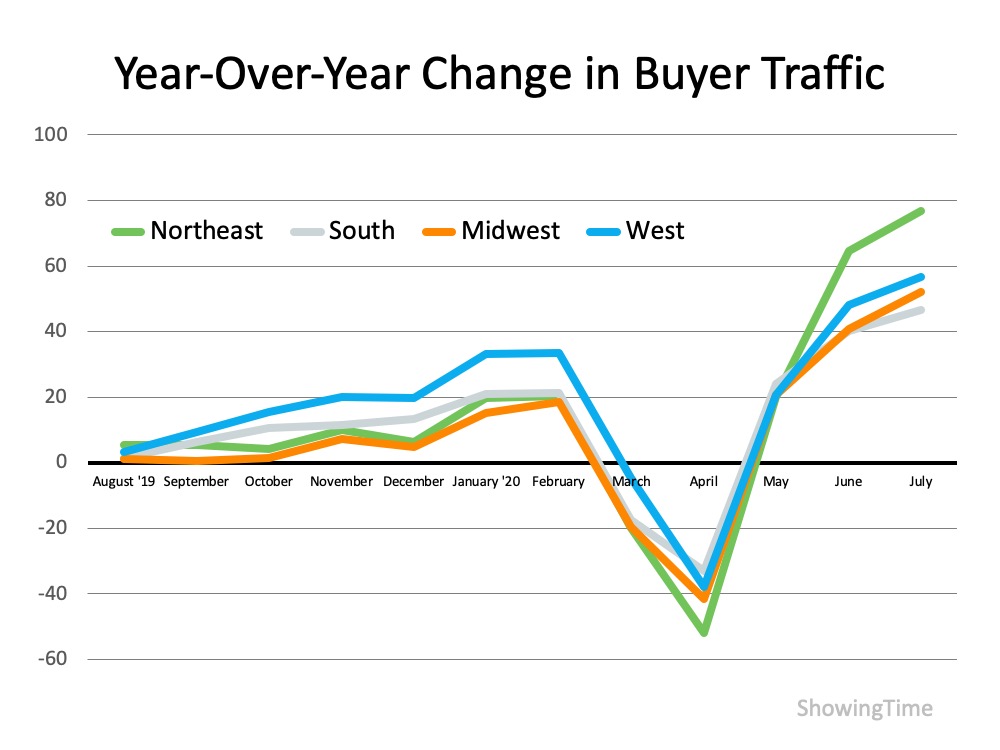 We're way ahead of where we were at this time last year. This data validates the thoughts of Frank Martell, President, and CEO of CoreLogic, who recently noted:
"On an aggregated level, the housing economy remains rock solid despite the shock and awe of the pandemic."
Bottom Line
If you're thinking about selling your Sarasota house, this may be a great time to get the best price and the most favorable terms.

Subscribe to RSS Feed
Welcome to our Blog!
2020-09-19
Is Now a Good Time to Move Sarasota?
2020-09-14
Two New Surveys Indicate Urban to Suburban Lean
2020-09-10
Sarasota Homebuyer Traffic Is on the Rise
2020-09-09
The Latest Unemployment Rate Fell to 8.4%
2020-09-08
Have You Ever Seen a Housing Market Like This?
2020-09-04
FSBO Millionaires Use Real Estate Agents
2020-09-03
Sarasota Homebuyer Demand Is Far Above Last Year's Pace
2020-09-02
How Will the Presidential Election Impact Sarasota Real Estate?
2020-09-01
It's Not Just About the Price of the Home
2020-08-31
Three Ways to Win in a Sarasota Home Buying Bidding War
2020-08-27
Why Is It so Important to Be Pre-Approved in the Homebuying Process?
2020-08-27
Here's how to know if you're ready to sell your Sarasota home!
2020-08-26
July 2020 Sarasota Housing Report
2020-08-26
Should You Buy an Existing Sarasota Home or New Sarasota Construction?
2020-08-25
Builders & Realtors Agree: Sarasota Real Estate Is Back
2020-08-24
The Top Reasons People Are Moving This Year
2020-08-21
How the Sarasota Housing Market Benefits with Uncertainty in the World
2020-08-21
Fix It Up Friday
2020-08-20
Forbearance Numbers Are Lower than Expected
2020-08-19
Just How Strong Is the Sarasota Housing Recovery?
2020-08-18
Sellers Are Returning to the Sarasota Housing Market
2020-08-18
Let It Go! 8 Seller Beliefs That No Longer Hold True Today!
2020-08-17
The Beginning of an Economic Recovery
2020-08-14
Florida's Single Family For-Sale Inventory Hits Record Low in 2Q
2020-08-13
Sarasota Homes Are More Affordable Right Now Than They Have Been in Years
Click here to see ALL articles.