2020-08-17
The Beginning of an Economic Recovery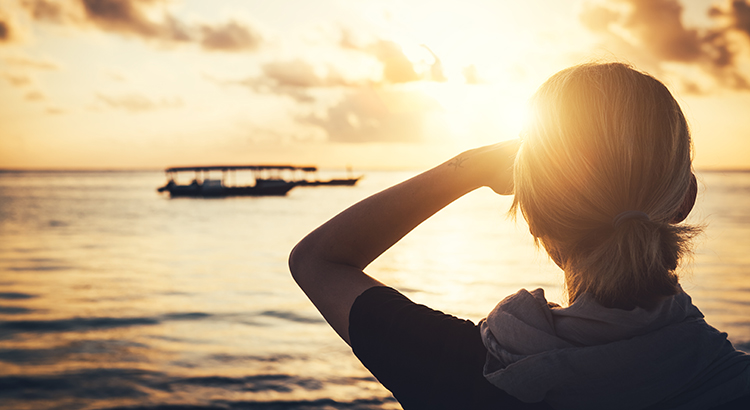 The news these days seems to have a mix of highs and lows. We may hear that an economic recovery is starting, but we've also seen some of the worst economic data in the history of our country. The challenge today is to understand exactly what's going on and what it means relative to the road ahead. We've talked before about what experts expect in the second half of this year, and today that progress largely hinges upon the continued course of the virus.
A recent Wall Street Journal survey of economists noted, "A strong economic recovery depends on effective and sustained containment of Covid-19." Given the uncertainty around the virus, we can also see what economists are forecasting for GDP in the third quarter of this year (see graph below):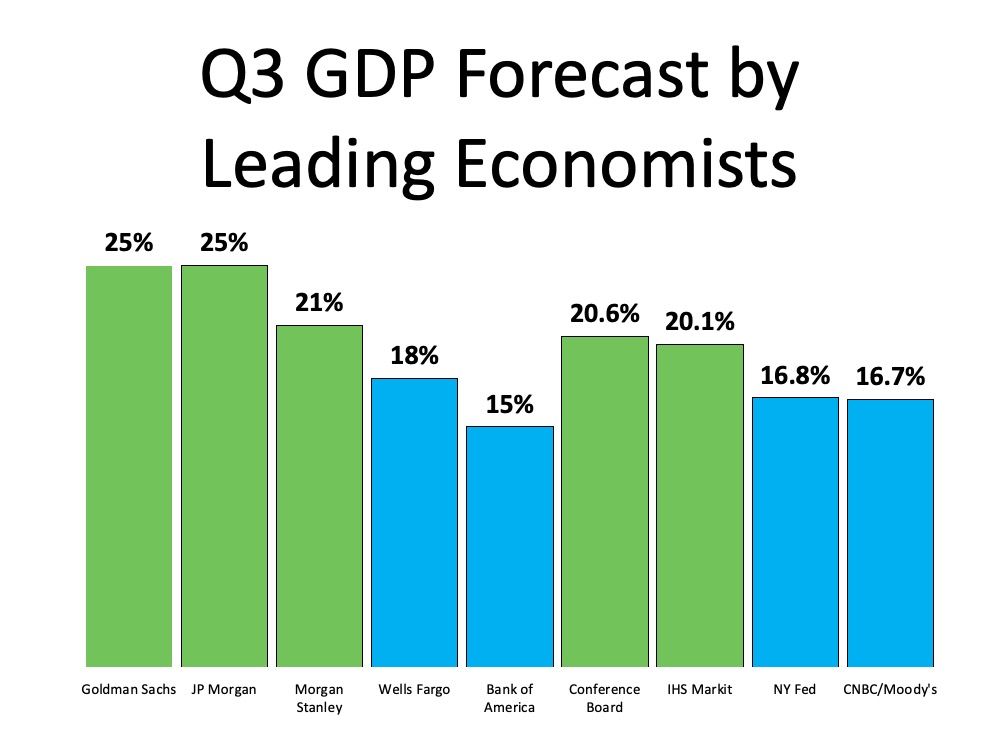 Overwhelmingly, economists are projecting GDP growth in the third quarter of 2020, with 5 of the 9 experts indicating over 20% growth.
Lisa Shalett, Chief Investment Officer for Morgan Stanley puts it this way:
"Indeed, the 'worst ever' GDP reading could be followed by the 'best ever' growth in the third quarter."
As we look forward, we can expect consumer spending to improve as well. According to Opportunity Insights, as of August 1, consumer spending was down just 7.8% as compared to January 1 of this year.
Bottom Line

An economic recovery is beginning to happen throughout the country. While there are still questions that need to be answered about the road ahead, we can expect to see improvement this quarter.

Subscribe to RSS Feed
Welcome to our Blog!
2020-09-19
Is Now a Good Time to Move Sarasota?
2020-09-14
Two New Surveys Indicate Urban to Suburban Lean
2020-09-10
Sarasota Homebuyer Traffic Is on the Rise
2020-09-09
The Latest Unemployment Rate Fell to 8.4%
2020-09-08
Have You Ever Seen a Housing Market Like This?
2020-09-04
FSBO Millionaires Use Real Estate Agents
2020-09-03
Sarasota Homebuyer Demand Is Far Above Last Year's Pace
2020-09-02
How Will the Presidential Election Impact Sarasota Real Estate?
2020-09-01
It's Not Just About the Price of the Home
2020-08-31
Three Ways to Win in a Sarasota Home Buying Bidding War
2020-08-27
Why Is It so Important to Be Pre-Approved in the Homebuying Process?
2020-08-27
Here's how to know if you're ready to sell your Sarasota home!
2020-08-26
July 2020 Sarasota Housing Report
2020-08-26
Should You Buy an Existing Sarasota Home or New Sarasota Construction?
2020-08-25
Builders & Realtors Agree: Sarasota Real Estate Is Back
2020-08-24
The Top Reasons People Are Moving This Year
2020-08-21
How the Sarasota Housing Market Benefits with Uncertainty in the World
2020-08-21
Fix It Up Friday
2020-08-20
Forbearance Numbers Are Lower than Expected
2020-08-19
Just How Strong Is the Sarasota Housing Recovery?
2020-08-18
Sellers Are Returning to the Sarasota Housing Market
2020-08-18
Let It Go! 8 Seller Beliefs That No Longer Hold True Today!
2020-08-17
The Beginning of an Economic Recovery
2020-08-14
Florida's Single Family For-Sale Inventory Hits Record Low in 2Q
2020-08-13
Sarasota Homes Are More Affordable Right Now Than They Have Been in Years
Click here to see ALL articles.